We provide professional garden awning installation services in Wigan, offering customised options and expert guidance at competitive pricing.
Excellent job done in a short time. No problems, friendly fitters. Would definitely recommend.
Totally recommend Garage Door Solution Ltd Great service from the first contact through fitting and final clear up for a garage door. Warren and his team completed a neat installation and it looks really good. Thanks everyone.
I can't recommend this company highly enough. The owner, Warren, came out quickly to give me a quote following my phone call. He was friendly, professional, ready to give advice and very knowledgeable on all the garage door installation options. Mine wasn't a straightforward installation, and Warren gave me the best option and was very patient with all the queries that I had before making my final choice. I also found the company to be better value than its competitors that I looked at. Once I accept the quote, Warren kept me informed of progress. From start to finish he made the whole process easy. His crew who installed the garage door were friendly, professional and kept the site clean and tidy. If you're looking for a high-quality garage door at a competitive price, installed by a friendly and professional team then this is the company for you
Fantastic service from GDS & Warren. From the offset, Warren came out to provide a quote and found him to be the best price for the quality of service. Had a new garage door from GDS and would definitely recommend and will use for any future needs.
Philip Page (Kitchen Railway Company)
2022-12-25
Warren and his team did a brilliant job fitting us a new composite front door. Much quieter, warmer and far more secure. Highly recommended.
Good service and dealt with professionally.
Roller garage door fitted yesterday , 100% satisfied with the product and the service, would definitely recommend. The fitter's were extremely helpful and cheerful which made my experience very pleasant which was important to me as I'm a widow and live alone.
Great service. Quality product fitted when they said it would be. Easy to deal with and very pleasant fitters. Couldn't ask for more really.
First class professional service Highly recommended
Loucas Georgiou
2022-08-09
After a very poor experience trying to get new garage doors with another company, Warren and his team were excellent! I said that the reviews were that good its as if you wrote the yourself! Well I was wrong they are just that good! Every one of them, Frank and Jamie who were great fitters, Vicky in accounts and Warren. Many thanks
Garden awnings are a great way to enhance your outdoor living space by providing shade and shelter from the sun, rain, and wind. At Garage Door Solutions, we have years of experience in installing garden awnings for homeowners in Wigan and the surrounding areas.
Our team of experts understands the importance of a high-quality garden awning and its ability to add value to your home.
With our wide range of garden awnings, we can help you find the perfect awning for your outdoor living space.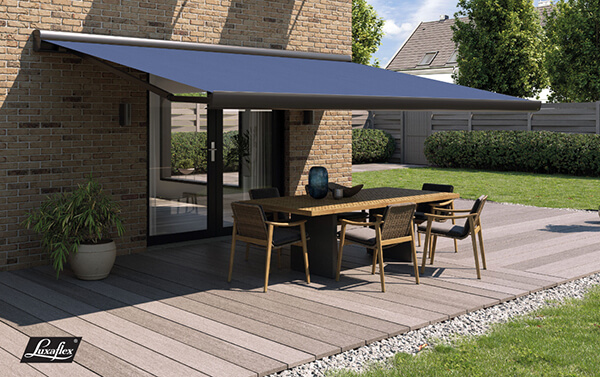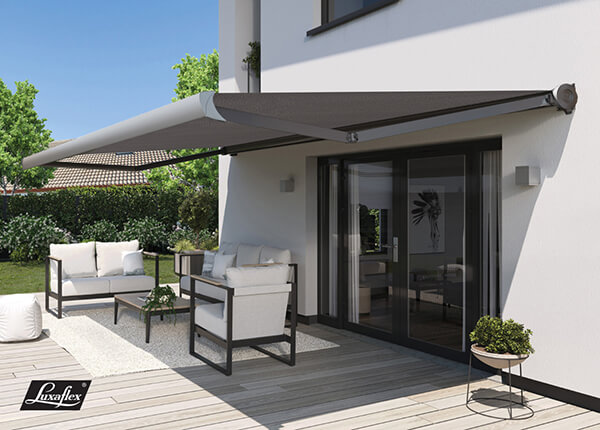 There are several types of garden awnings available, each with their own benefits and features. At Garage Door Solutions, we offer a wide range of garden awnings to suit your needs, including:
These awnings are designed to withstand all types of weather, including rain, wind, and snow. They are durable and long-lasting, making them a great investment for your outdoor living space.
These garden awnings provide protection from the rain, ensuring that you can still enjoy your outdoor living space even during wet weather.
These awnings can be easily extended or retracted as needed, giving you the flexibility to adjust the amount of shade or sunlight in your outdoor space.
Each type of garden awning has its own unique benefits and features. For example, a waterproof garden canopy can be a great choice for homeowners who want to use their outdoor space in all types of weather, while a retractable garden awning may be more suitable for those who want to have more control over their outdoor living space.
Our team of experts can help you choose the right type of awning for your needs and provide professional installation services to ensure that your garden awning is fitted correctly and performs optimally.
Learn more about our Garden Awnings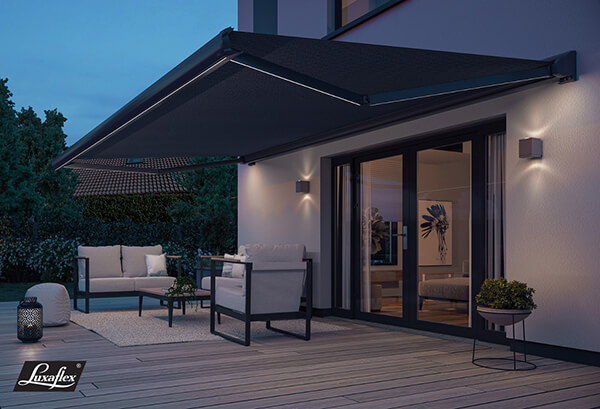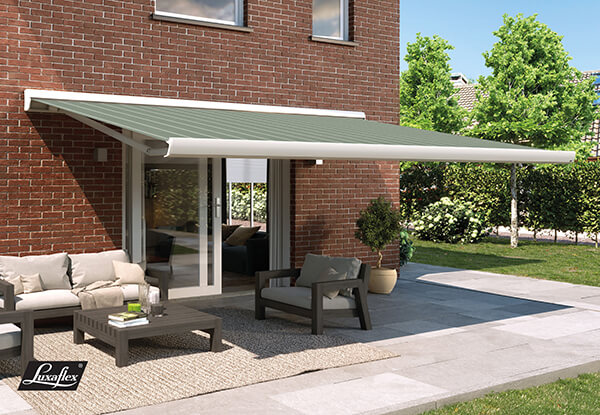 Features and Benefits of Garden Awnings
Garden awnings provide a range of features and benefits that can enhance your outdoor living space. Here are some of the key benefits of garden awnings:
Garden awnings provide protection from harmful UV rays, allowing you to enjoy your outdoor space without worrying about sunburn or skin damage.
Waterproof garden awnings provide shelter from the rain, allowing you to enjoy your outdoor space even during wet weather.
By providing shade and shelter, garden awnings can help you create additional outdoor living space, giving you more room to relax and entertain.
In addition to these benefits, garden awnings can also be customised to suit your needs and preferences. At Garage Door Solutions, we offer a range of size, colours, and fabric options to help you create the perfect garden awning for your outdoor living space.
Furthermore, garden awnings can also provide energy-saving benefits by reducing the amount of sunlight that enters your home. This can help keep your home cooler during the summer months, reducing the need for air conditioning and lowering your energy bills.
Want To See Our Garden Awning Brochures?
Want More Information About Our Garden Awnings?
Why Choose GDS for A New Garden Awning?
At Garage Door Solutions, we understand that choosing the right garden awning can be a big decision. That's why we offer a range of services and benefits that set us apart from the competition. Here are just a few reasons why you should choose us for your new garden awning:
Contact us today to learn more about our range of garden awning services and how we can help you enhance your outdoor living space in Wigan and the surrounding areas.
Garage Door Solutions (NW) Ltd